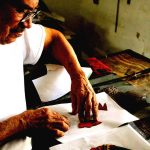 Good Old Texas Ingenuity Since 1970
Linama's roots began back in 1970, when the family began handcrafting western style boots in "The Boot Capital," Guanajuato, Mexico, a city world-renowned for its handmade artisanal footwear and leather crafts. Many generations of footwear artisans call Guanajuato home.
Bringing together over 160 years of experience in the design and crafting of footwear to oversee every facet of our boot's construction, with exemplary custom made, quality superior, along with Texas traditions and a full history rich of experience.